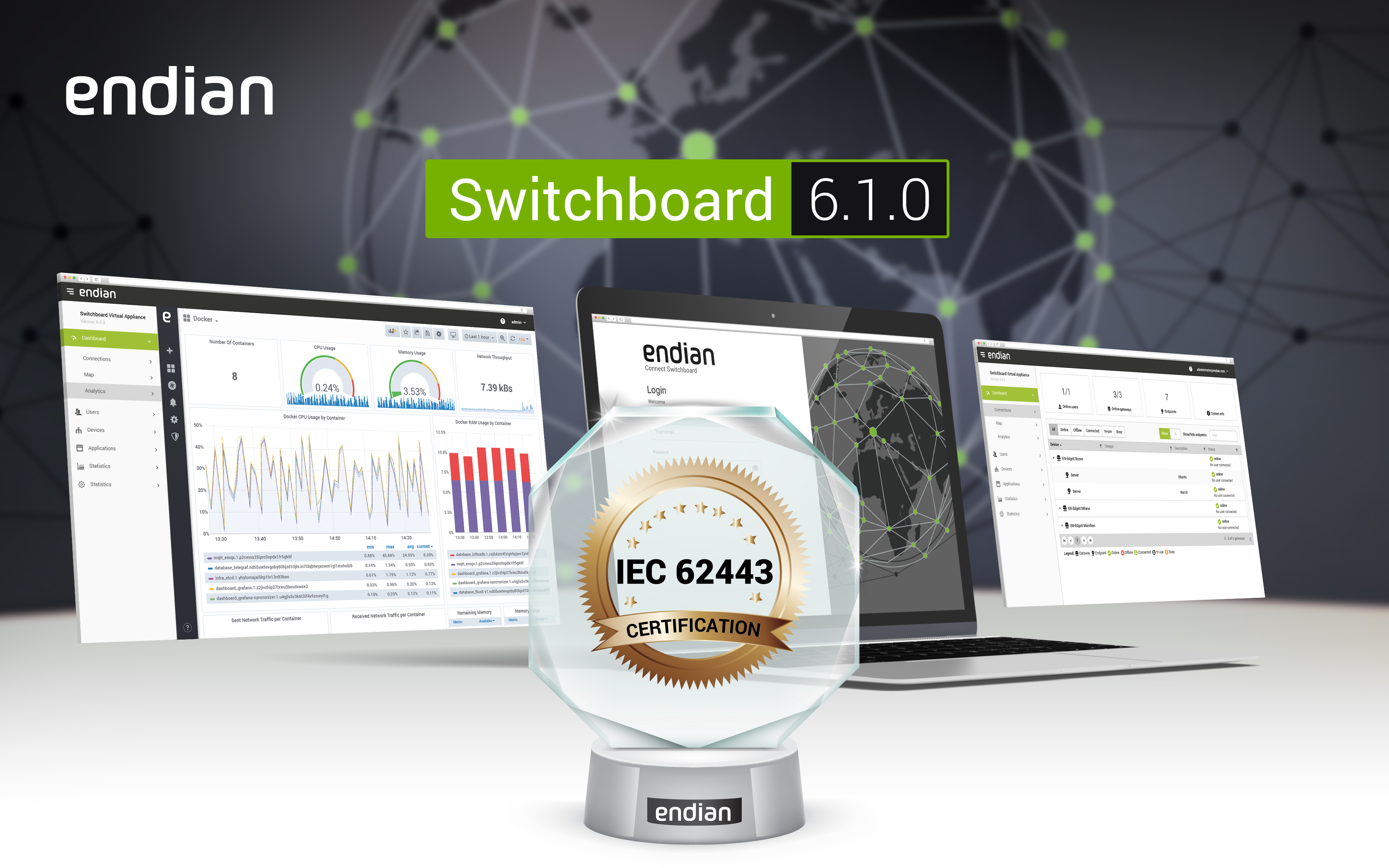 Introduction
The Endian Switchboard is the heart of the Endian Secure Digital Platform that provides secure remote access to field equipment, data collection and visualization, edge computing and powerful user and device permission management. The Switchboard can be deployed anywhere (on-premise or cloud) and on any platform (hardware or virtual) and is the only solution to include comprehensive security features throughout the platform.
Highlights
Endian Secure Digital Platform Achieves IEC 62443 Certification
Endian is proud to announce that with the release of Switchboard 6.1.0 that the Secure Digital Platform (Switchboard and 4i Edge X) are IEC 62443 certified for both 62443-3-3 (System Security) and 62443-4-2 (Component Security) at SL2 security level. This certification ensures that customers using the Endian Secure Digital Platform are able to meet or exceed the industry standard for industrial and automation cybersecurity. Businesses in the industrial field, can ensure their users, gateways, devices and endpoints are reliably protected from cybersecurity threats.
The IEC 62443 is a comprehensive set of security standards for implementing secure Industrial and Automation Control Systems (IACS). It's the globally recognized industrial cybersecurity standard for any product or solution and helps customers to quickly identify products that are proven to minimize disruption and maximize security for industrial networks.
IEC 62443-3-3 describes general system security requirements such as authentication, data confidentiality and system integrity, emphasizing that performance and availability should not be compromised during the process of addressing these requirements.


IEC 62443-4-2 describe the requirements placed upon the product components specifically, the embedded devices, network components, host components and software applications of an IACS system.
In addition, the Endian Secure Digital Platform was certified against the BSI Grundschutz Catalog (Basic Protection Ordinance) and OWASP Top 10 threats to further strengthen and validate the security of our platform.
Configure User Session Security Parameters
Using Switchboard 6.1.0, a user can now configure advanced user session properties including user session inactivity timeout, allowed number of login attempts (before locking), initial lockout period and more. These enhanced security measures prevent brute force login attempts and protect users from unauthorized account access. In addition, we are providing mechanisms to control when inactive user sessions get logged off automatically to enhance user account security and minimize unauthorized or accidental changes.