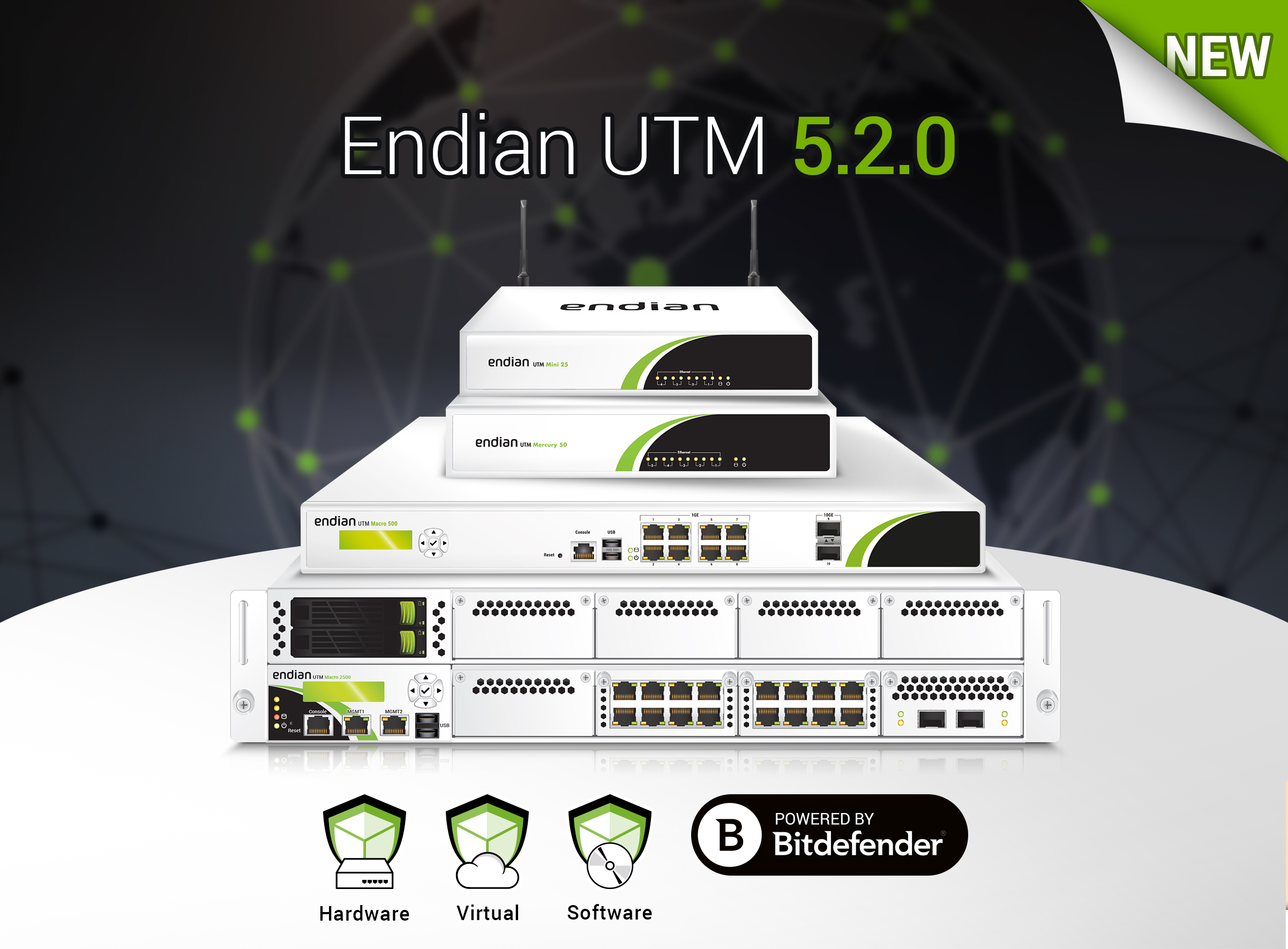 Introduction
The Endian UTM provides comprehensive network security including firewall, intrusion prevention/detection (IPS/IDS), VPN (SSL & IPsec), Web Antivirus and Content Filtering, Email Antivirus and SPAM Filtering and so much more.
Highlights of Release 5.2.0
New Antivirus Engine (BitDefender)
The Endian UTM 5.2.0 release will now utilize Bitdefender, which will provide industry-leading web and email antivirus filtering technology, as the Endian Antivirus engine. The Bitdefender antivirus and anti-malware engine provide significant performance and expanded database and accuracy improvements to the Endian UTM platform. In addition, Bitdefender provides superior protection against zero-day threats to stop attacks at the network edge and prevent damage to the business, employees and customers.
Bitdefender is a global cybersecurity leader protecting over 500 million systems in more than 150 countries. It is one of the most popular brands in the Anti-malware market and has provided almost 100% detection rate since 2011 that have been proved by AV-Test and AV Comparatives.
Improved Web UI Performance
We've made improvements to the overall performance of the Web UI. This includes scalability and support for larger multi-user environments with a 50% faster response time to web interface requests.
New HA (High Availability) Improvements
There are also improvements made to the HA (high availability) module which enables two Endian appliances to be paired with each other in order to provide hardware redundancy. The improvements include enhancements to the HA notifications services and to the synchronization of Endian services and their corresponding status.
Expanded Hotspot Ticket Support
The Endian Hotspot captive portal feature now supports larger bandwidth ticket sizes to accommodate scenarios where this may be required. This will significantly reduce administration time and increase customer satisfaction.